Posted by EcoSox on May 4th 2023
On Mother's Day, we all have much to be thankful for. After all, our mother brought us into the world, cared for us, and guided us from childhood to adulthood. While nothing could repay her for her sacrifices over the years, Mother's Day is the perfect time to get her a little something to show you care.
If you're looking for the perfect gift to knock your mom's socks off this Mother's Day, then we've got you covered. EcoSox has a variety of comfortable bamboo socks that will make the perfect gift to pamper your mother. Not sure socks are the right fit? Here are five reasons EcoSox bamboo socks make the perfect gift for your mother, grandmother, or any special lady in your life.
Five Reasons to Gift Bamboo Socks this Mother's Day
1. Bamboo Socks Are Durable
Unlike traditional gifts like chocolates and flowers, bamboo socks will last years. EcoSox are made with bamboo viscose, a durable material that won't wear out or lose shape over time.
2. You Can Never Have Too Many Socks
Most people wear at least one pair of socks per day — more if you have an active mom who loves working out or going for walks. Because socks are a part of our daily wardrobe, you can never have too many!
3. Bamboo Socks Are Comfortable
Your mom deserves to put her feet up this Mother's Day. A perfect way to help her relax is by giving her a comfortable pair of bamboo socks. Bamboo socks have a soft, buttery feel that will leave her feeling pampered every time she wears them. These socks are a great alternative to cotton socks or wool socks, which can be abrasive and harsh on the skin. With a blister-free guarantee on many EcoSox products, your mom will be comfortable all day.
4. There Are Socks For Any Occasion
From hiking to the office to everyday wear, EcoSox has socks for every occasion.
These Outdoor Hiking Socks have extra padding to protect her feet while providing added comfort. The naturally moisture-wicking fibers will keep her feet dry, odor-free, and blister-free. American Crew Dress Socks in dots or stripes are perfect for the office and add a subtle pop of color to her attire. There are a variety of socks for everyday wear in various cuts and styles, including crew, low-cut, quarter, and no-show.
5. There Are Socks For Every Mom
No matter what hobbies and interests your mom has, EcoSox has the perfect bamboo socks for her.
Does your mom enjoy working out? If so, check out these EcoSox JAG Athletic ZAG-MAX Bamboo Running Socks or JAG Athletic ZIG-LITE Bamboo Running Socks. These socks are cushioned, low-cut, and tabbed to enhance performance. The cushioned footbed, smooth toe seam, and Y-heel stitching will keep her comfortable and blister-free.
Is she on her feet for long stretches of time? Then look at these Bamboo Low-Cut Ankle Socks. These socks sit right at the ankle for an optimal fit. The breathable natural fibers allow for the right amount of airflow to keep her feet dry and blister-free throughout the day. Check out these Bamboo No Show Socks with ventilated mesh tops for a more discrete look.
Does she enjoy hiking? Then the Bamboo Light Weight Hiking Quarter Socks are the perfect fit for your mother. The half-cushion design provides cushioning underfoot for comfort while the thin top regulates temperature and keeps her feet dry.
Is she always cold? Then the Blue Flame Thermals are the sock for her. These socks are thick and heavyweight with ultra-soft insulation. Thermal bamboo socks retain 600% more heat than cotton socks, keeping her toasty warm.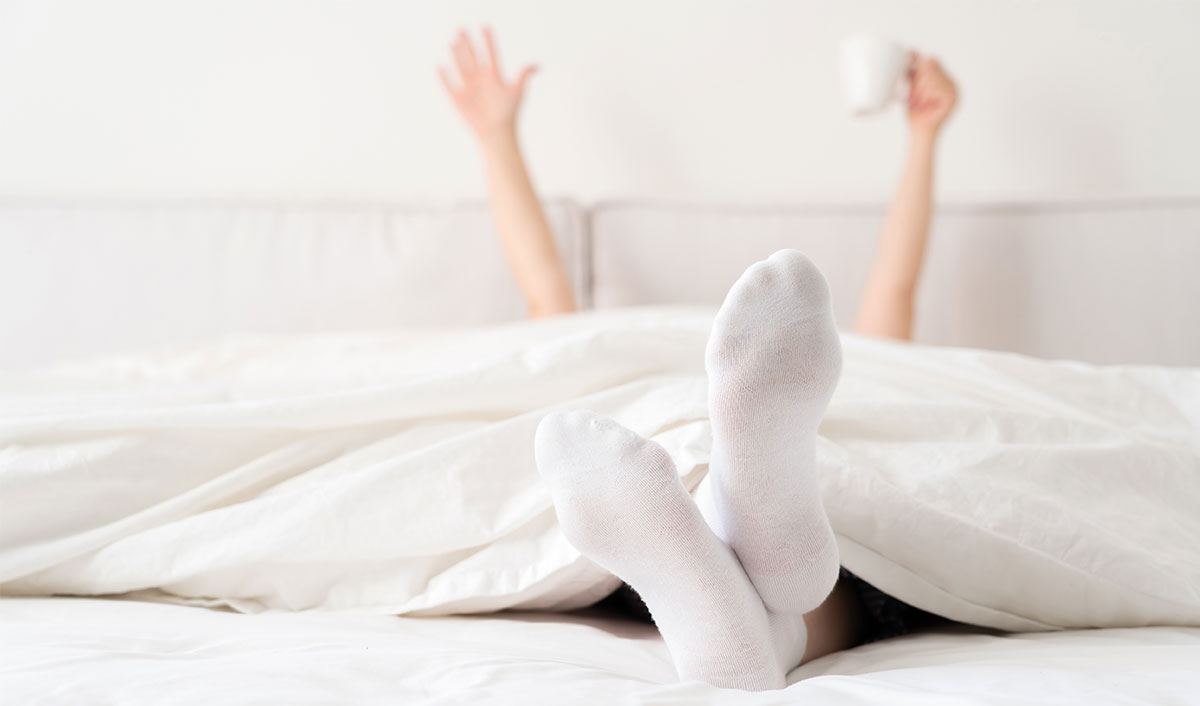 Give the Gift of Socks This Mother's Day
Give the gift of comfort this Mother's Day with a pair of high-quality bamboo socks. EcoSox has cuts and styles for any mom. They are the perfect gift to show your mom you care.