Posted by EcoSox on Aug 13th 2023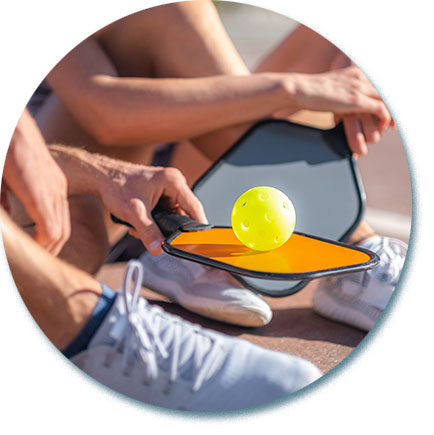 Considered to be the fastest-growing sport in the United States, pickleball is a combination of tennis, badminton, and ping pong. What's more, it's easy to learn, low-impact, and fun!
Pickleball can be played both indoors or outdoors and provides an excellent way to stay fit while having a great time with friends. Best of all, you can play it almost anywhere – all you need is a net, paddle, and ball.
What is Pickleball?
Pickleball is a game played on a court that's about one-third the size of a tennis court, with a net slightly lower than a tennis net.
Players use a paddle and a plastic ball with small holes. The game is played by two or four players. What makes pickleball great is that players of all ages and skill levels can enjoy it. For those who have mobility issues, the court can be made smaller or adjusted to accommodate.
Why is pickleball so popular?
Because pickleball rules are simple, anyone can learn how to play the game. Whether you're a seasoned player or a beginner looking for a new hobby, pickleball has something to offer everyone.
The social aspect is a major factor in its rising popularity. Because pickleball courts are smaller than tennis courts, you can convert one tennis court into four pickleball courts. The smaller playing field makes it easy to talk to your opponent or host a tournament with friends. And, as an added bonus, you're getting in a great workout while having fun with friends or family.
Pickleball is a great way to exercise your mind and body. During the game, you'll work on your balance, agility, hand-eye coordination, and reflexes without straining your body. Unlike tennis, pickleball is easy on your joints and is considered a low-impact sport. This makes it a great way to stay in shape for older players or anyone who has knee, shoulder, hip, or other joint problems.
What equipment do you need to play pickleball?
As we mentioned, very little equipment is required to play pickleball. You need two paddles and a ball. If a court isn't available, you'll need a net and some chalk to outline the court.
Footwear is an important factor to consider while playing pickleball. You need socks that can stay in place, provide sufficient cushioning, absorb sweat, and prevent blisters. Bamboo socks are perfect for this.
Bamboo socks contain natural anti-bacterial and anti-fungal properties that allow your feet to stay clean and free from harmful bacteria and fungi that can cause skin infections. It's also breathable, making it the perfect choice for those who tend to sweat a lot. Your feet stay dry, and you avoid foot odor, which can be unpleasant after games.
In addition to preventing foot odor, bamboo socks are also known for their durability, strength, and softness. They are gentle on the skin, making them ideal for people with sensitive skin. Above all, they're the perfect choice for environmentally conscious players who care about reducing their carbon footprint – bamboo is a sustainable resource and grows quickly, making it an eco-friendly choice as opposed to artificial and synthetic materials often found in sock production.
What are the best bamboo socks for pickleball?
There are a wide variety of bamboo socks to choose from. The best bamboo socks for pickleball will be designed for active sports. If you're looking to up your game with bamboo socks, check out these styles:
EcoSox JAG Athletic ZAG-MAX Bamboo Running Socks
Don't be fooled by running in the title. These bamboo socks are perfect for any active sport, including pickleball. The ZAG-Max socks feature a cushioned, low-cut design with core compression to help fight foot fatigue. The natural fibers and air vents will keep your feet dry and blister-free.
EcoSox JAG Athletic ZIG-LITE Bamboo Running Socks
If you prefer a thinner sock, the ZIG-LITE bamboo socks are a great alternative. These ultra-thin, low-cut tabbed socks are made from bamboo viscose to provide the performance and comfort you need on the court.
EcoSox Bamboo Athletic 300 Series Socks
For those who want a higher-cut sock, the Athletic 300 Series Socks are over the calf and make a great sock or a liner. Arch and ankle support zones keep the sock in place, and the mesh ventilation zones assist with air circulation to keep your feet cool and dry from the start of the game to the end. This will keep your feet blister-free and odor-free. For more cushioning, check out the EcoSox Bamboo Athletic Half Cushion Tube Socks.
The Y-heel stitching and integrated smooth toe seam provide comfort and optimal feet to keep you at the top of your game. The natural moisture-wicking materials and ventilated mesh will help keep your feet dry, blister-free, and odor-free. These bamboo socks are also available in a crew cut as a single pair.
Stay healthy and have fun with picklebal
Pickleball is a fantastic sport that's here to stay. It's a great way to stay healthy while having fun. Make sure you have the right gear including bamboo socks that will keep your feet comfortable, fresh, and irritation-free. With proper footwear, you will always be in your best form, ready to have fun and enjoy every moment of the game.