Posted by Karl B. on Mar 23rd 2023
An opportunity of a lifetime started to percolate in the blustery fall hiking season of 2021. A group of co-workers and I began to chatter about hiking the Grand Canyon. Questions arose like, "How hard?", "How long?" and "Who would go?" We excitedly bantered back and forth about the possibility for days.
As it inevitably does in the workplace, we all got busy with the day-to-day workload as the holiday season approached. The conversations about hiking the Grand Canyon fell along the wayside to be forgotten – or at least that is what I thought.
As the new year rolled in, I found that our conversation about hiking the Grand Canyon was not only still a thing but was taking shape as a real possibility that a handful of us could do it through our employer's generosity.
Our employer is the world's largest teardrop trailer manufacturer – nuCamp. Over the years, we have partnered with Mandy Lee Photography to provide awe-inspiring photographs of these tiny living teardrop trailers around the United States and Canada.
Mandy offers guided backpacking adventures for Rim to River of the Grand Canyon. So with the help of nuCamp, ten of us were offered this hiking opportunity. We all set out to start prepping for the trip that was to take place the end of 2022.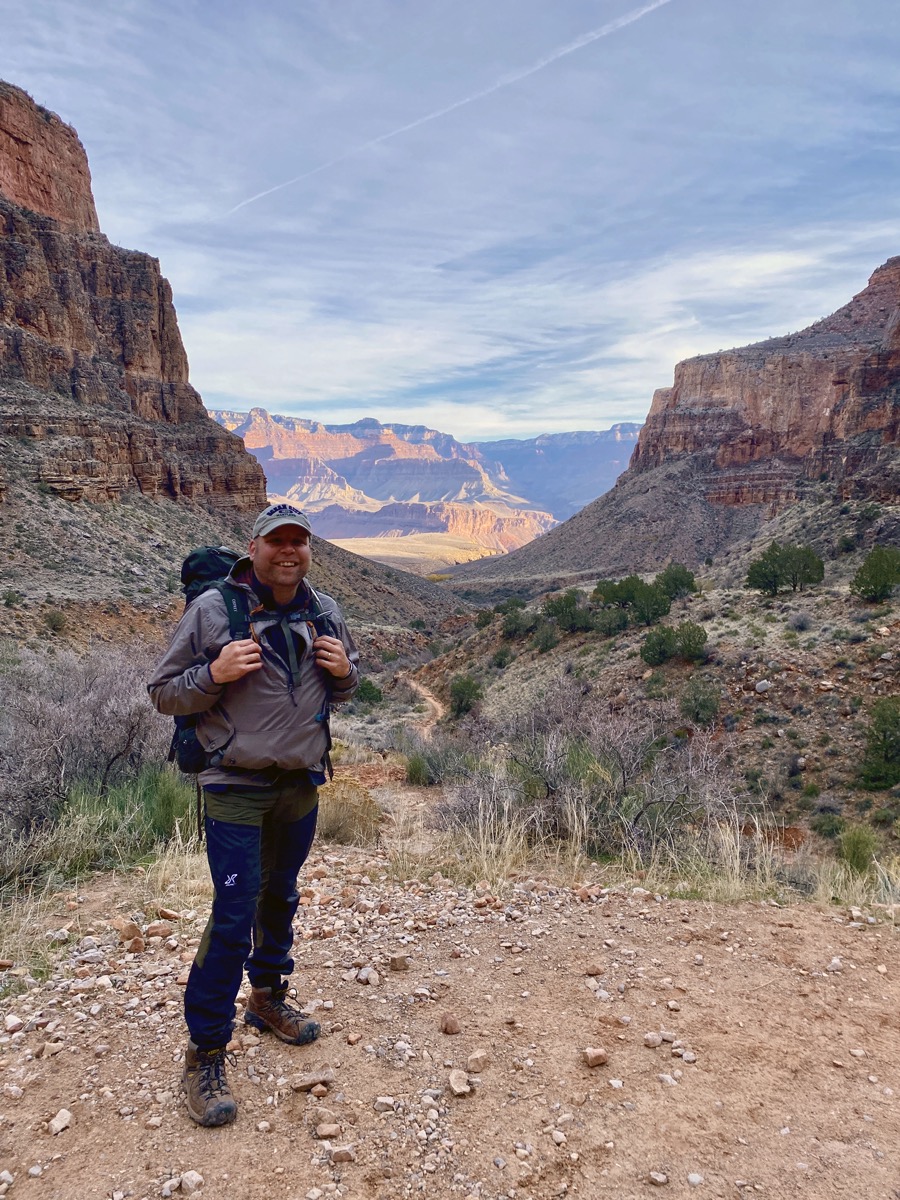 Deciding How Much To Carry (Including Hiking Socks)
We all needed to learn more about what it would take to hike the Grand Canyon down to the Colorado River, camp for a night, and then hike back to the top. Mandy (and Kendrick, her husband) provide a gear list along with some general exercises you could do to start the preparation.
As part of my gear planning, I decided to wear EcoSox Full Cushion Hiking Socks the entire time, so I purchased three pairs and a few extra pairs to give to some of my fellow hikers.
The overall plan was to hike from the South Kaibab Trailhead (South rim of the Grand Canyon) to Bright Angel Campground at the bottom, which is about 7.5 miles and 4,800 feet of descent.
We would take some time to set up camp, enjoy the surroundings, and then have dinner at the Phantom Ranch Canteen.
The next morning we would have breakfast at Phantom Ranch Canteen, pack up, and hike to Indian Garden Campground (4.5 miles and 1,800 feet of ascent), where we would set up camp and have a packed lunch.
Come evening, we would take a 3.2-mile sunset hike to Plateau Point and have dinner as the sun dipped below the canyon ridge.
On the final day, we would hike the remaining 4.5 miles and 3,200 feet ascent back to the top.
Bamboo Hiking Socks On Foot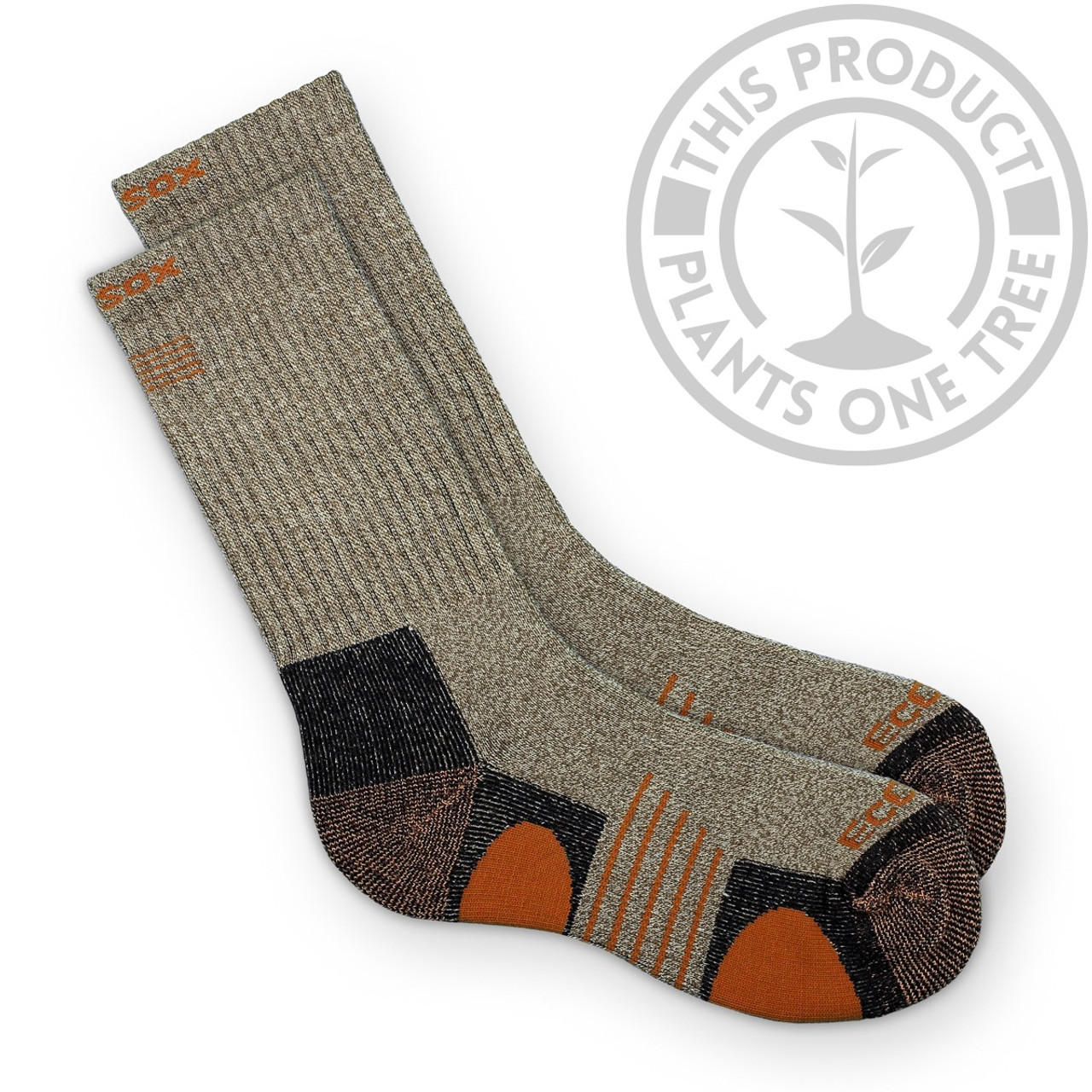 With EcoSox Bamboo Full Cushion Hiking Socks on my feet and an 18-pound pack hoisted on my back, we started our decent early morning on December 8th. Everyone felt great and was ready to go. The sun was cresting the rim of the Canyon, and we all took a moment to gaze in awe at the beautiful tapestry unfolding.As we worked our way down to the canyon floor, we would stop periodically to enjoy the views, rest, and have energizing snacks. We came face to face with a Big Horn Sheep that stood tall in defiance to let us know we were only a guest in his domain. On occasion, we talked to other passing hikers and mule riders.
As the steps down continued to pile up, it became more apparent that having the right foot gear was critical, and EcoSox performed. Crazy as it sounds, the hike down was the hardest physical thing I had ever done. It was exhausting. Most of the team made the descent (7.5 miles and 4,800 feet of descent) in 5 hours. For me, it was just under 30,000 steps in 5.5 hours.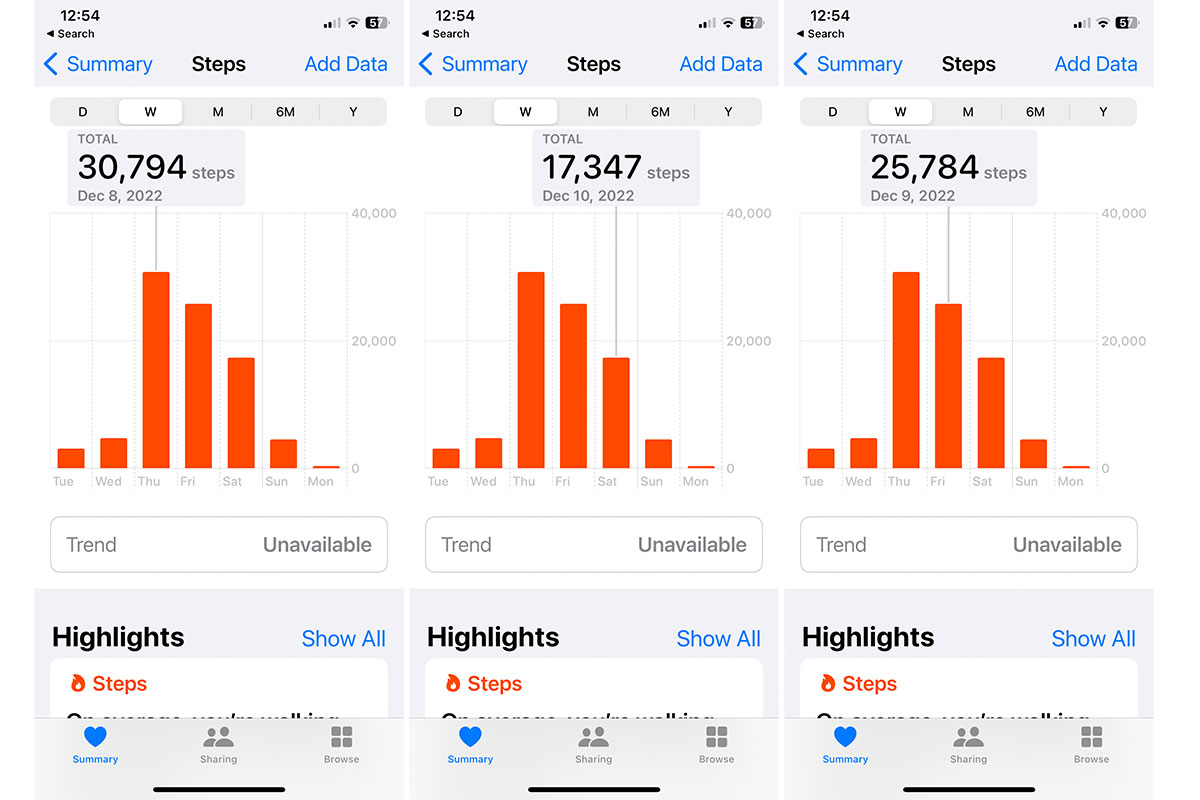 EcoSox Bamboo Hiking Socks = No Blisters
The hike back to the rim of the Grand Canyon was challenging, but wasn't quite as strenuous for me. This was partly due to spanning the hike over two days.
Our team hiked in and out of the Grand Canyon for three days. Not everyone wore EcoSox Hiking Socks, but those that did loved them. In fact, at breakfast on our last day, one of my fellow hikers said he could feel the blisters starting, so I gave him the extra pair I packed. Once we reached the top, he thanked me again and said, "if it wasn't for EcoSox, I might not have made it."
I was the only one who wore EcoSox Hiking Socks all three days we hiked. I changed them every morning for a fresh pair. I never once worried about blisters. We walked on sandy dirt and loose rocks and through a bit of water. My feet always felt fine.
Overall, the trip of a lifetime was just that. Everyone took the challenge and survived. While it was a team-building event, we created new friendships, strengthened existing bonds, and enjoyed ourselves immensely.
If you ever have the opportunity to hike the Grand Canyon from rim to floor, take that challenge. Start your training early and train hard. You'll enjoy it a lot more if you aren't exhausted. Plus, go with people who will encourage and support you. And don't forget to pack your EcoSox - your feet will thank you!