Posted by EcoSox on Jan 25th 2022
If you put very little thought into what socks you're wearing, you're not alone. It's easy to slip on whatever pair of socks are at the top of your sock drawer without a second thought.
Did you know choosing the right pair of socks can help fight foot fatigue, aid in sports recovery, and promote overall foot health? Do you need new workout socks? Try compression socks! Many athletes are opting for compression socks to enhance their workouts and promote sports recovery.
Why Wear Compression Socks?
Most people associate compression socks with medical conditions. However, in recent years, benefits for athletes have come to light, and many pro-athletes wear compression clothing before or after a workout.
Compression garments were designed to help improve blood flow and are often used by post-surgical patients, diabetics, and other people who have circulatory issues. The light compression helps blood return to the heart to prevent it from pooling in the lower extremities and causing swelling. It also helps reduce the risks of blood clots.
Because of these benefits, athletes began using compression socks. Of course, you don't have to be a pro to wear compression socks. Athletes and runners at any level can experience improved endurance, performance, and recovery with running socks.
Compression Socks Aid in Sports Recovery
Studies of compression socks suggest these socks can speed up recovery and reduce muscle soreness after a strenuous workout. Some athletes opt to wear them during intense workouts while others choose to put compression socks on following a workout. The severity of your muscle soreness will depend on the duration and intensity of your workout.
Wearing compression socks have several benefits. According to the British Journals of Sports Medicine, compression socks have proven to reduce muscle damage after exercise. It also reduces muscle fatigue, inflammation, and soreness due to an increase in blood flow.
Compression socks described as having "gradient compression" or "graduated compression" means the sock has a controlled amount of pressure at the ankle that gradually decreases up the leg rather than a consistent compression throughout. Gradient compression pushes blood flow and circulation up the leg, which will prevent ankle swelling.
Keep in mind your legs should feel supported - not constricted. If your socks are tight and uncomfortable (like they're digging into your skin), go a size up.
Try EcoSox Compression Socks for Sports Recovery
If you're looking for new running socks or sports recovery socks, check out these compression socks men and women.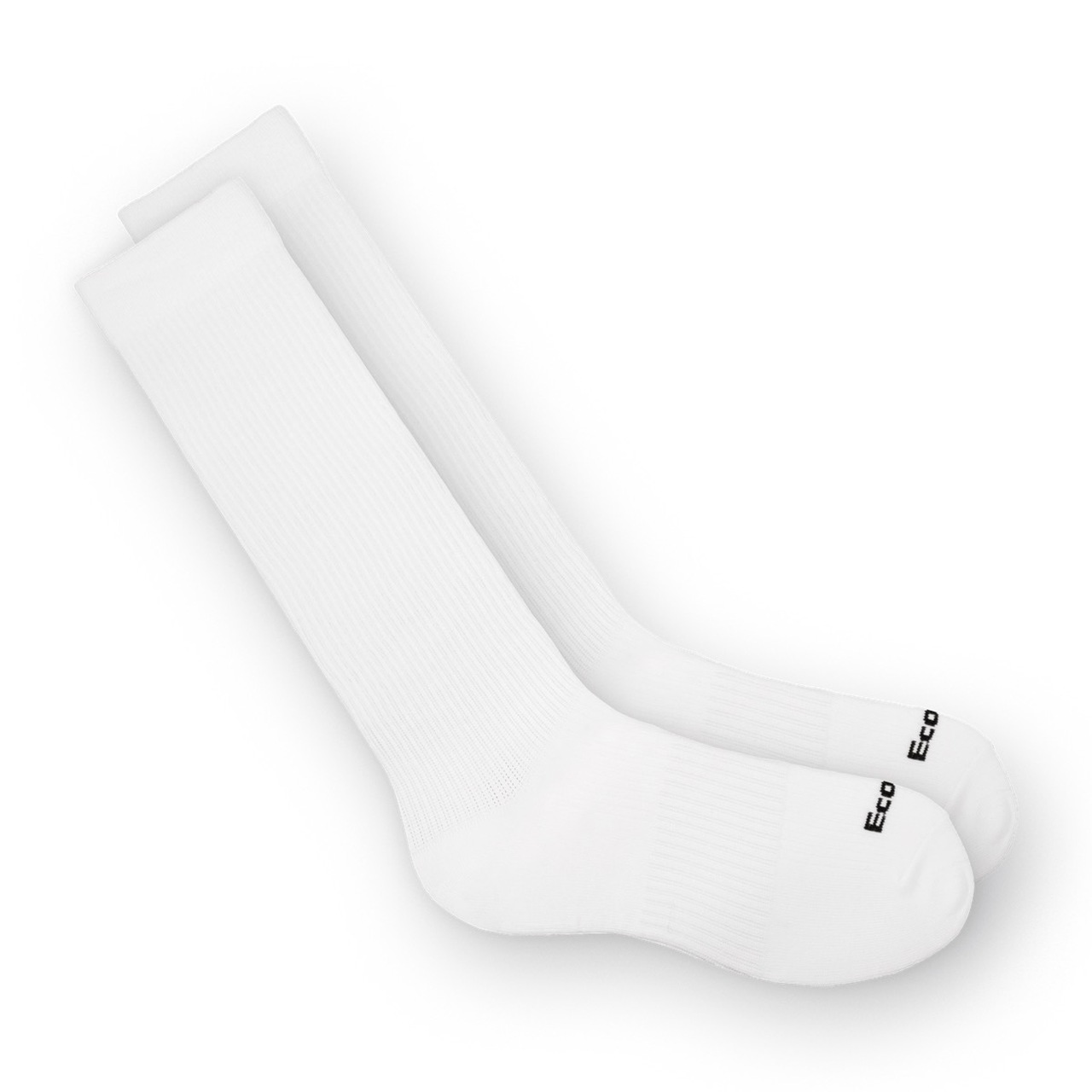 EcoSox Bamboo Compression Socks
These over-the-calf socks feature a mild graduated compression (8-15 mmHg), which is ideal for workout recovery or to help fight fatigue if you're on your feet for long spans of time. Be sure to check out the sizing chart to help you pick the right fit. If you're between sizes, it's recommended to go for the larger size to avoid a too-tight fit that will hinder the benefits of compression socks.
Besides being great for sports recovery, these bamboo compression socks have a number of other benefits including a moisture-wicking material to keep your feet dry and blister-free and a smooth, integrated toe seam for comfort.
If you don't need a full, over-the-calf compression sock, you can opt for a shorter cut sock with core compression socks for women and men.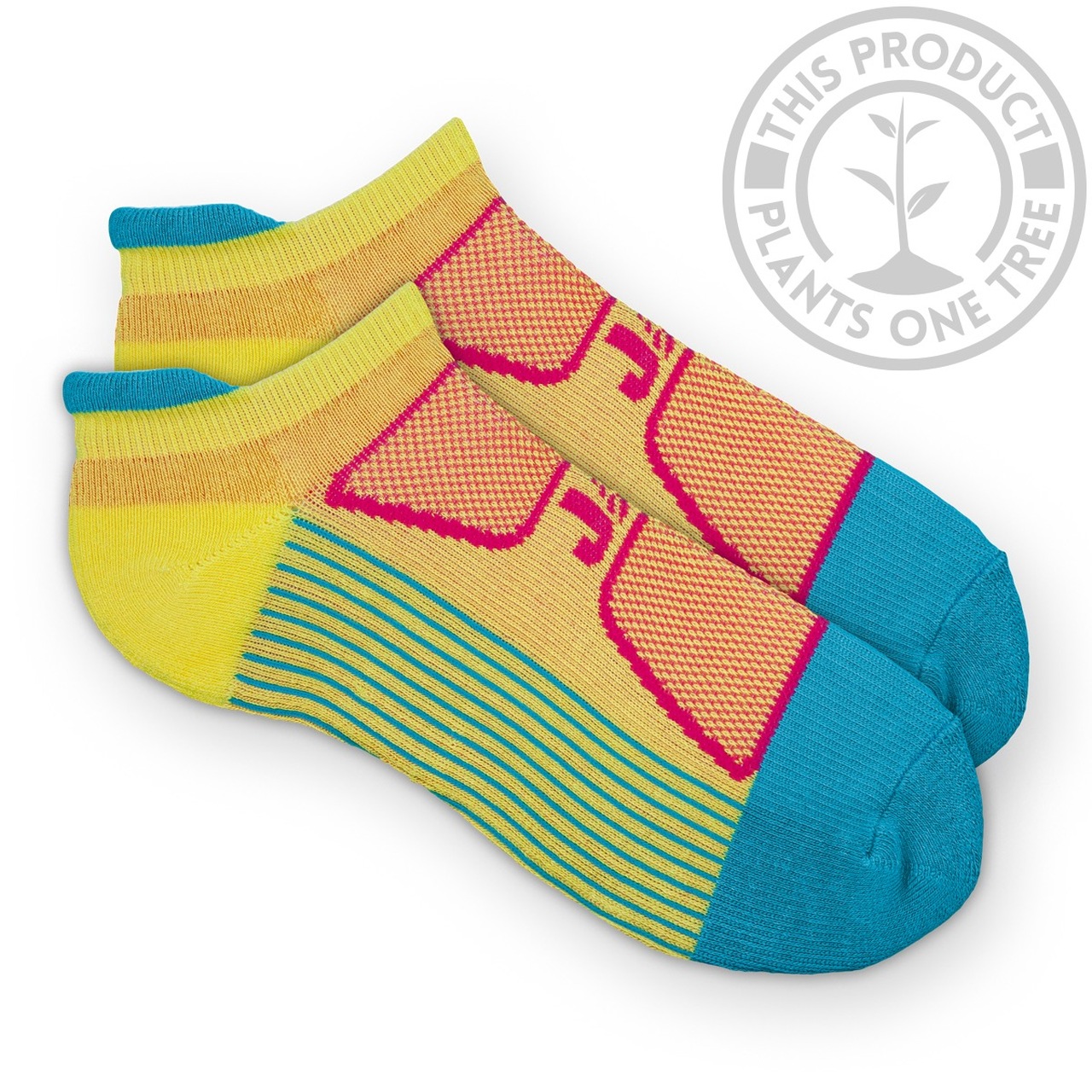 EcoSox JAG Athletic ZAG-MAX Bamboo Running Socks
While the EcoSox JAG Athletic Socks don't include compression up your calf, they do have core compression to help fight foot fatigue and assist in sports recovery. The smooth, integrated toe seam stitching and ultra-thin resistance padding will also provide optimal comfort when running.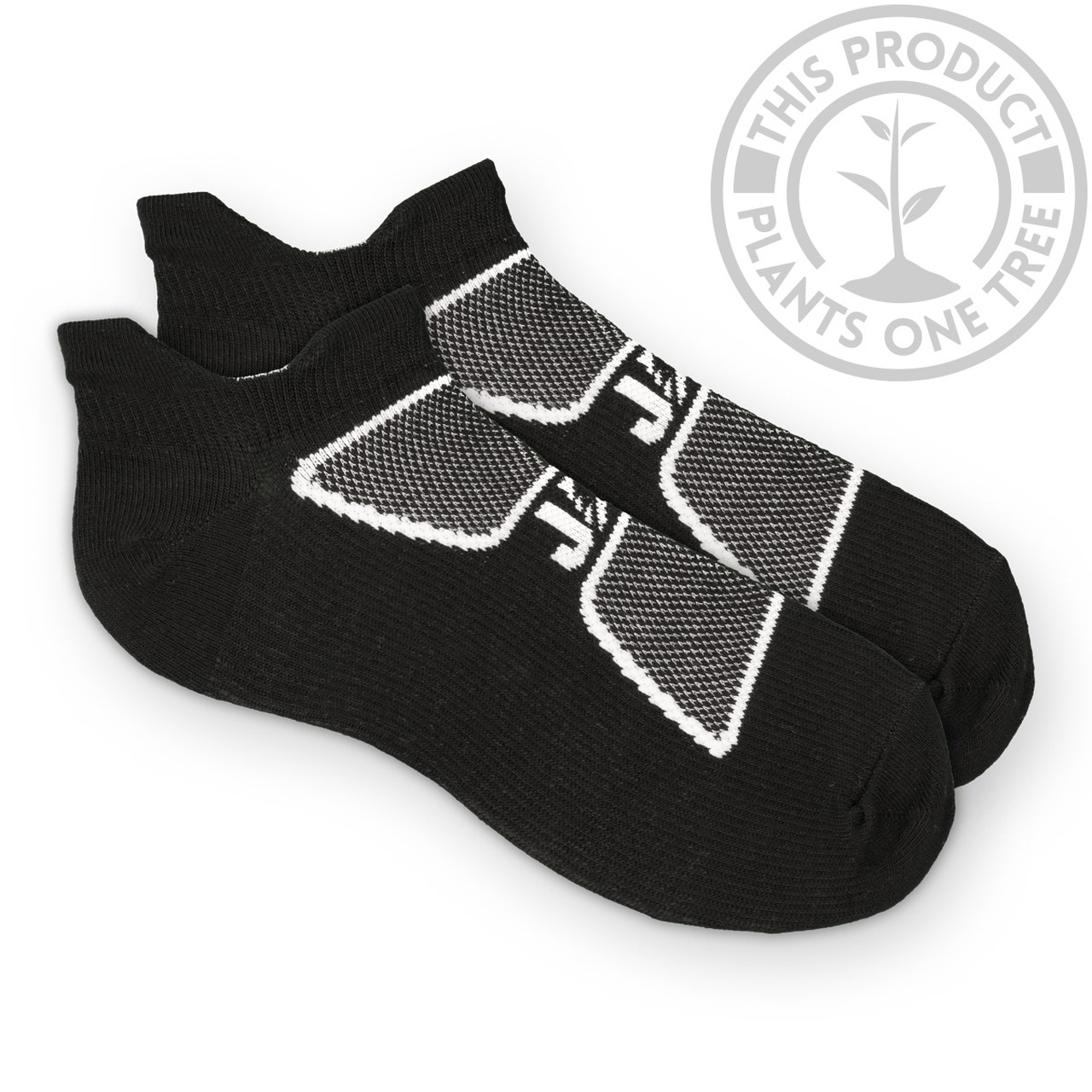 EcoSox JAG Athletic ZAG-LITE Bamboo Running Socks
Like the MAX version, these socks have core compression to fight foot fatigue and assist in recovery. The LITE EcoSox have thinner cushioning for those who prefer a lighter sock compared to its MAX counterpart.
No matter what level of athlete you are, compression socks can enhance your workout and help prevent soreness. Don't wait until you experience a sports injury! Get a step ahead by trying compression socks during your next workout.