Posted by EcoSox on Oct 2nd 2021
When the hillsides become speckled with yellows, reds, and oranges, you know what time of year it is. It's time to pull on your favorite sweater, enjoy a cup of warm apple cider, and embrace pumpkin-flavored everything. Yes, it's that time of year again — when the days become shorter, the air turns cool and crisp, and a spectrum of vibrant colors takes over the trees.
The cooler temperatures and beautiful scenery make fall the perfect time to explore trails and do some hiking. So, grab some trail mix and snacks, slip on EcoSox hiking socks made from bamboo, and lace up those hiking boots!
Protect Your Feet with Hiking Socks
When hitting the trails, it's a given that you need supportive shoes to protect your feet on uneven or rocky trails. Don't forget to think twice when choosing a pair of socks. Consider EcoSox bamboo hiking socks, which are designed to keep you comfortable and dry on any hiking trip
EcoSox has a variety of men's hiking outdoor socks and women's hiking outdoor socks to keep your feet happy as you're out enjoying nature's beauty. Whether you're heading out for a lengthy hike on a rugged trail or hitting a nearby path for a few hours, the natural moisture-wicking yarn of bamboo hiking socks will keep your feet dry and blister-free.
Bamboo Full-Cushion Hiking Socks have 360-degrees of cushioning around your feet to provide comfort. The socks also come in a variety of colors, from neutral gray and black to more bold choices like purple and pink — making these socks the perfect hiking socks for men or women.
Bamboo Half-Cushion Light Hiking/Outdoor Socks provide comfort underfoot with a thin top to keep your feet cool. The half-cushion footbed will also offer arch support during your hike to help fight foot fatigue.
Hiking Socks for Diabetics
Diabetic Hiking Socks provide additional support to promote foot health for those diagnosed with diabetes, edema (swelling), or neuropathy (nerve pain). The cuff of the socks is non-binding and won't slip as you hike. The soft, relaxed fit is easy to put on and won't inhibit blood flow.
Have you struggled with blisters in the past? Bamboo socks are perfect for those with sensitive feet prone to getting blisters. You may notice some of your EcoSox products are proudly marked with the "Blister Free Guarantee." The yarn used to make the socks are naturally moisture whisking, preventing friction and keeping your feet blister-free.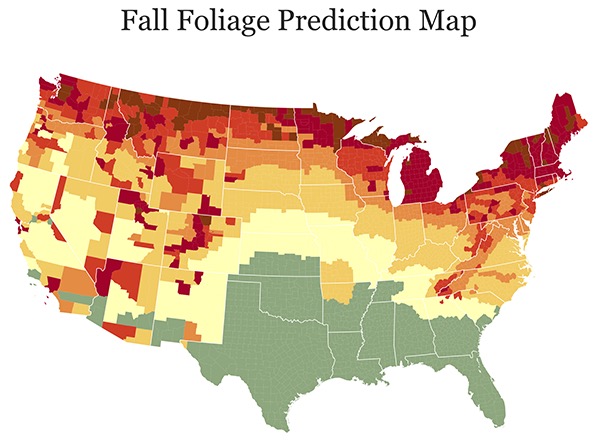 When is Peak Fall Foliage?
In autumn, the best time to visit your favorite trails or explore new ones is when the fall foliage is at its peak. According to the Farmer's Almanac, peak leaf-peeping season can be anywhere from late September to mid-November, depending on your location in the United States.
The 2021 Fall Foliage Map at SmokyMountains.com aims to promote travel to the national park in Tennessee and North Carolina. Smoky Mountain National Park is a prime location for hiking during autumn to view the vibrant fall foliage. The map presents a nationwide analysis of prime leaf viewing times based on weather, including rainfall and temperatures, and average daylight exposure. It also takes into account historical trends from past years. You can use a scrolling bar at the bottom to see the fall foliage trends for each week, starting on Mondays.
East Coast Fall Foliage
Late September and early October will be prime leaf-peeping time along the East Coast. Most of the Northeast region will be past its peak colors by the second week of October, so be sure to get your fall foliage hikes in early! The northernmost reaches of Maine will see colors beginning in September while Vermont, New Hampshire, and northern New York will peak in early October. Massachusetts and southern New York will hold off a little longer with peak season in mid-October. Washington D.C. and Virginia are the last to show their fall colors, which will hit peak in late October. The Carolinas will also see more vibrant colors in late October and early November.
Mountain West Fall Foliage
Fall foliage has made its debut early in the Mountain West. Northern Colorado, southeast Montana, and northeast Wyoming will reach past peak by September 27 th with most of the region close behind at peak or near peak. By early October, you're pushing post-peak times. Southern Arizona and New Mexico won't reach peak fall foliage until mid-October.
Midwest Fall Foliage
Hit the trails in late September or early October in the upper Midwest or mid-to-late October in the states a bit further south to see the spectrum of fall colors. The Smoky Mountains Map predicts Minnesota, Michigan, and Wisconsin will have the best fall colors in the first two weeks of October while Ohio, Iowa, Illinois, and Indiana will have the best foliage in the second and third weeks of October.
West Coast Fall Foliage
The West Coast is better known for its beaches than its fall foliage. However, you can find some pretty amazing views in the Pacific Northwest. Because of some extremely hot 100-degree days in Seattle, fall foliage is expected to be a bit later than normal for this region with peak time being mid-October. The Smoky Mountain Fall Foliage Map is predicting the best colors to be the week of October 11th.
The South Fall Foliage
The southern-most states will see fall foliage a little later than the rest of the country with states including Texas, Louisiana, Mississippi, Georgia, and Florida hitting peak fall foliage the week of October 25th or November 1st. The tips of Texas and Florida won't reach peak times until the week of November 15th.
The Right Sock Will Help You Enjoy Fall Hiking Even More
There's nothing quite as scenic as hiking in the fall when the foliage is at its peak colors. Quality hiking socks are worth the investment and will last longer than traditional cotton socks. When properly cared for, your hiking socks will last you through countless adventures.
EcoSox's bamboo hiking socks are durable and will keep your feet dry and comfortable during any length of hike. So, grab your trail map, pull up your bamboo hiking socks, and lace-up those hiking shoes — because with EcoSox, you are ready to hit the trails. Happy hiking!