Posted by EcoSox on Oct 29th 2021
Ghosts, goblins, and ghouls — oh my!
'Tis the season to scare your bamboo socks off!
It's October, the spookiest time of year. With Halloween right around the corner, it's time for haunted houses, ghostly hayrides, and scary movies … but what if it's your socks that are really scary looking this Halloween?
If your socks look like something from a nightmare with holes or stains, it's time to freshen up your wardrobe. Picking out a pair of socks might sound mundane, and it can be easy to overlook the sock. A good pair of high-quality bamboo socks, however, will be a treat for your feet, keeping them healthy and dry.
When it comes to finding a pair of high-quality socks, bamboo can be a great alternative to the traditional cotton sock. Not only are bamboo socks durable, but they also have anti-bacterial properties and naturally eliminate moisture.
Treat your feet with best bamboo socks
Here are three reasons you should buy bamboo socks next time you're sock shopping:
1. Bamboo socks keep your feet healthy
Wet or damp feet are a breeding ground for bacteria — talk about scary! Bamboo diabetic socks absorb four times more moisture than regular cotton socks. The viscose fibers are hollow, which allows them to absorb more moisture. This will keep your feet dry and prevent you from developing foot diseases, such as athlete's foot, fungus, and other similar conditions, and will also help eliminate odors, which are a result of bacteria.
2. Bamboo socks regulate temperature
Bamboo socks are thermo-regulating — meaning they'll keep your feet cool in the summer and warm in the winter. For those chilly October nights, you can opt for bamboo thermal socks for added warmth, such as these Blue Flame E-Tech Bamboo Thermal Socks.
3. Bamboo socks will keep you blister-free
Your feet won't be screaming with bamboo socks from EcoSox! Bamboo socks are made with viscose fibers to keep your feet comfortable! All socks marked with the " Blister Free Guarantee" seal are made with moisture-whisking yarn that prevents friction and the formation of blisters.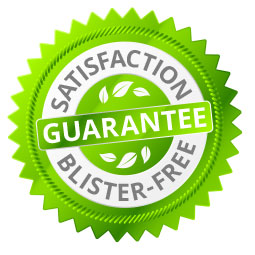 Check out EcoSox's variety of high-quality bamboo socks ranging from running socks to compression to thermal. There is a style for everyone with a variety of comfortable cuts including no-show, crew, quarter-cut, and over-the-calf.
EcoSox commitment to quality means your bamboo socks are crafted to last. So ditch the scary socks and step into EcoSox!