Posted by EcoSox on Jan 28th 2023
Have you ever taken your shoes off to immediately wish you hadn't after being hit with a foul odor? If so, you're not alone.
It's not uncommon to occasionally have stinky feet, especially if you are keeping your feet in closed-toe shoes all day or are working up a sweat at the gym.
Each foot has approximately 125,000 sweat glands. The soles contain more sweat glands per square centimeter than any other part of the body. When your body gets hot, it begins to sweat, leading to damp feet. Keeping your feet dry and healthy is the best way to keep your feet from getting smelly.
Do bamboo socks help with foot odor?
Bamboo socks are the best socks to keep your feet odor-free no matter what you put them through. Why is it so important to keep your feet odor-free? Besides the obvious reason of not wanting smelly feet, odor-free feet mean healthy feet.
Foot odor is caused by a mixture of perspiration and bacteria. Bacteria can lead to other foot issues such as fungus or sores. The good news is bamboo socks can help keep your feet healthy! Though everyone sometimes has smelly feet, you want to minimize smells as much as possible, and EcoSox can help. Here are four reasons you should wear bamboo socks to minimize odor.
The best socks to prevent foot odor
1. Bamboo socks are moisture-wicking
Bamboo socks are made with bamboo viscose fibers, which are naturally moisture-wicking and the best socks for keeping your feet dry. Bamboo socks are 60% more moisture-wicking than traditional cotton socks.
The natural moisture-wicking materials keep your feet dry and blister-free. If you're ready to make the switch from cotton socks to bamboo, check out these Bamboo Low-Cut Ankle Socks. If crew cut is more your style, then the EcoSox American Crew Bamboo Socks are for you.
2. Bamboo socks are breathable
Wearing a breathable sock will help prevent your feet from sweating. Don't suffocate your feet with ill-fitting and stuffy socks. Allow your feet to breathe with bamboo socks. Take your socks to the next step by choosing a bamboo sock with mesh ventilation for added air circulation and cooling.
EcoSox American Crew Breathable Mesh Book Socks have a breathable mesh top to regulate foot temperature and improve air circulation to keep your feet dry and blister-free. If you prefer a lower cut, try the Breathable Mesh Bamboo Low Cut Ankle Socks or Bamboo No Show Socks.
3. Bamboo Viscose antibacterial properties
Most socks do not possess antibacterial properties — except for socks made from Bamboo Viscose, that is!
When you're working up a sweat, bacteria can grow in the fabric of a wet sock, which can lead to fungus and other foot health issues. The antibacterial properties of Bamboo Viscose helps slow the spread of microorganisms like bacteria and fungus — both of which can lead to foot odor. Bamboo has a natural barricade against bacteria, and the bamboo viscose fibers maintain their antibacterial properties even after dozens of washes.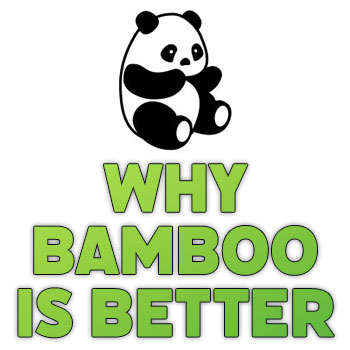 4. Bamboo socks are temperature regulating
Bamboo is naturally temperature regulating, meaning bamboo socks will keep you cool in the summer and warm in the winter. With cotton, your body has to work hard to regulate temperature, which can lead to sweating if you're working to stay cool. Temperature-regulating materials like bamboo take the pressure off your body and prevent sweating and foot odor.
Bamboo is better for preventing foot odor
Bamboo socks are the best socks to beat foot odor. Switch to bamboo socks and experience the benefits of bamboo's natural ability to keep your feet dry and healthy. Say goodbye to stinky, smelly feet, and hello to healthy, odor-free feet!